Visited Unveils List of Most Searched Luxury Travel Destinations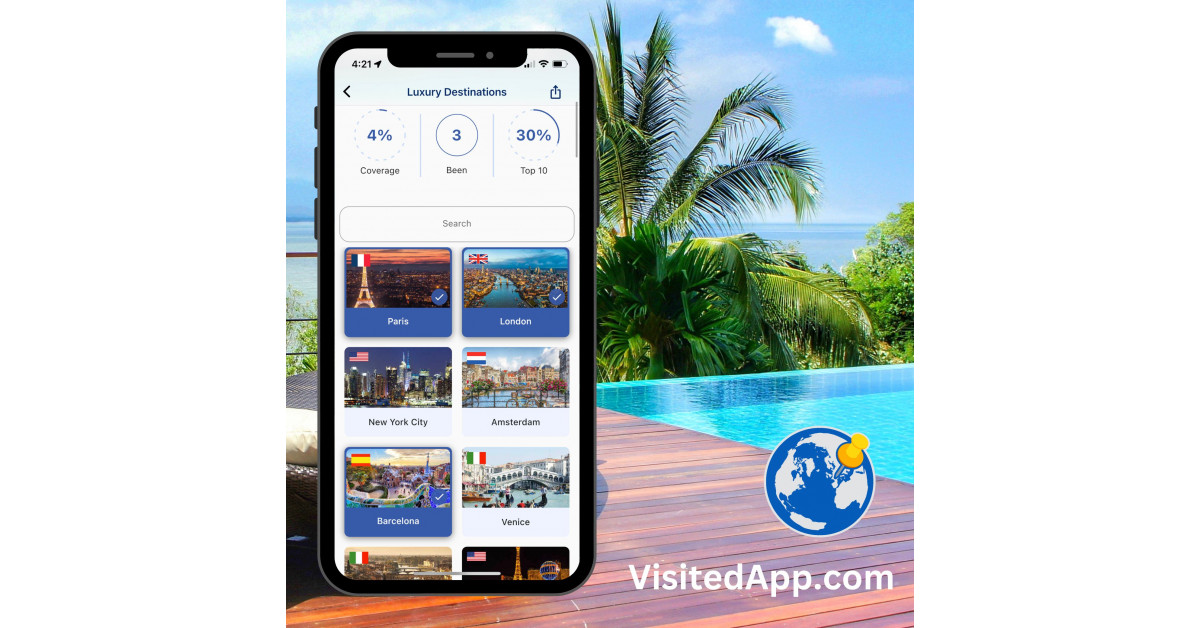 The travel app publishes the list of top 10 luxury travel destinations in the world based on data from international users.
Press release
–

November 15, 2022 1:00 PM EST
TORONTO, Nov. 15, 2022 (Newswire.com) –
Travel app Visited by Arriving In High Heels Corporation has released a list of the world's top 10 luxury travel destinations based on user data.
Visited, available on iOS or Android, is a travel app with over a million users checking off places they've visited around the world. Visited allows users to see personalized travel maps showing where they've been, browse popular destinations in different categories, set travel goals, and get custom printed travel maps.
Here are the top 10 luxury destinations in the world according to Visited:
Paris, France attracts over 30 million visitors a year and offers luxury shopping, exquisite cuisine, luxury hotels and iconic attractions like the Eiffel Tower and the Louvre.
London, England is a long-standing luxury destination with high-end amenities, luxury shopping, fine dining, and a rich history of aristocratic living.
New York, United States is a cultural capital, with high fashion, world-class restaurants, high-end hotels and plenty of luxury shopping along Manhattan's Fifth Avenue.
Amsterdam, Netherlands offers a wide selection of luxury hotels, designer brands and a rich cultural history.
Barcelona, ​​Spain offers colorful sites, luxury hotels, high-end boutiques, and delectable wine and cuisine in a mild climate.
Venice, Italy offers private gondola rides, Italian luxury brands in St. Mark's Square, as well as exquisite Italian cuisine and fine wines.
Florence, Italy appeals to luxury travelers with elegant art, architecture, Renaissance history, and modern luxury hotels with world-class amenities.
Las Vegas, United States – or Sin City – offers luxury hotels and boutiques, world-class restaurants and high-end spas.
Los Angeles, United States home to Hollywood, movie stars, opulent mansions, beautiful beaches and luxury shopping along Rodeo Drive.
Prague, Czech Republic includes luxury hotels, Prague Castle, Michelin star restaurants and designer boutiques.
To see the full list of the most popular luxury travel destinations and over 50 lists of the world's top ten attractions, download Visited on iOS or Android.
To learn more about the Visited app, visit https://visitedapp.com.
About Arriving In High Heels Corporation
Arriving In High Heels Corporation is a mobile app company with apps like Pay Off Debt, X-Walk, and Visited, their most popular app.
Source: Arrival at High Heels Corporation