Uzbekistan and Turkey elevate ties to 'comprehensive strategic partnership' – The Diplomat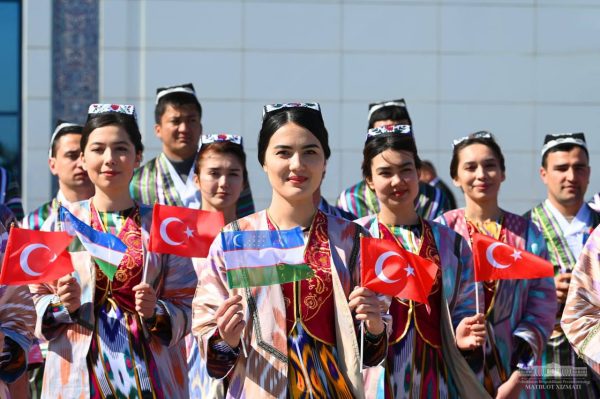 Crossroads Asia

|

Diplomacy

|

Central Asia

Turkish President Recep Tayyip Erdogan is on a two-day visit to Uzbekistan, the latest stage in the warming of post-Karimov relations.
Even though Turkey is in the European spotlight for host talks between Russian and Ukrainian officials this week, Turkish President Recep Tayyip Erdogan landed in the Uzbek capital, Tashkent, on Tuesday. At the invitation of Uzbek President Shavkat Mirziyoyev, Erdogan arrived for a two-day visit aimed at further developing bilateral relations. After talks, and the commissioning of a new thermal power plant, the two presidents declared the elevation of relations to a "global strategic partnership." There was also no shortage of photo ops at historic sites, with the two presidents accompanied by their wives on a trip to Khiva.
Like many of Uzbekistan's foreign relations, ties with Turkey saw a revival following the death of Islam Karimov in 2016.
In the 1990s, Turkish-Uzbek relations suffered after Ankara refused to extradite exiled Uzbek opposition figures. Uzbekistan halted visa-free travel and closed Gulen schools in the country, at the time a key aspect of Turkey's soft power. Relations deteriorated further when Turkey sided with the United Nations in condemning Tashkent for the Andijan massacre in 2005. With Karimov's death, a door opened to rebuild relations.
Erdogan visited Uzbekistan in November 2016 for talks with President-in-Office Mirzyoev. the the following year, Mirziyoyev visited Turkey, the first official visit to the country by an Uzbek president since 1999. Also in 2017, the two sides resumed meetings of the Joint Economic Commission and in 2018 they presented plans for a high-level Strategic Cooperation Council Turkey-Uzbekistan. Ankara held the first meeting in 2020; Erdogan's current trip to Uzbekistan marks the second such encounter.
At the end of their negotiations, the two parties announced the signing of 10 documents, including a preferential trade agreement and a framework agreement for military and defense cooperation. They also announced the upgrade of links to a "global strategic partnership". Erdogan, meanwhile, has suggested holding council talks every year, rather than every two years.
During the visit, the two presidents witnessed the commissioning of a new $150 million 240 MW thermal power plant in Tashkent and marked the start of construction of a 140 million gas piston power plant. million of 220 MW planned for the Syrdarya region. The new thermal power plant in Tashkent, built by the Turkish company Cengiz Enerji, is supposed to produce 1.9 billion kWh of electricity per year. The Syrdarya plant, under construction by the same company, is expected to open in September 2022 and is expected to produce 1.76 billion kWh of electricity per year, according to the Uzbek Ministry of Energy. Given Uzbekistan's booming energy demands, these projects are important.
Bilateral trade growth has also been significant, especially since 2016. In 2016, bilateral trade was just over $1.2 billion. Trade topped $2.1 billion in 2020 and, according to remarks by the two presidents, topped $3.6 billion in 2021. Although trade grew on both sides of the ledger, Uzbekistan became a much more open market for Turkish products since 2016. For example, in 2015, Turkish exports to Uzbekistan amounted to approximately $517 million, with Uzbek exports to Turkey exceeding $718 million. In 2020, Turkish exports to Uzbekistan were valued at around $1.18 billion and Uzbek exports to Turkey at around $1.01 billion. Interestingly, in 2015 cotton accounted for only 5.55% of Uzbekistan's exports to Turkey, but in 2020 it stood at 21.7%. The recent cancellation of the cotton boycott, given the progress made in eliminating forced labor in Uzbekistan, this percentage could increase further.
Turkish commentators described Russia as a main rival to woo Uzbekistan, adding a layer of complexity to their growing ties. Just as Mirziyoyev opened Uzbekistan to its neighbors, he also did so rather indiscriminately to more distant partners, including Russia and China. This meant a significant repair of relations with Russia, which, given the current war in Ukraine, may present some difficulties. The moment also presents opportunities for a partner like Turkey. Ankara may be seen as less intrusive than Western countries while providing a "gateway" to Western markets that can more reliably stay open as Russia is hemmed in by sanctions.