Turkish Airlines changes seats to accommodate world's tallest woman Rumeysa Gelgi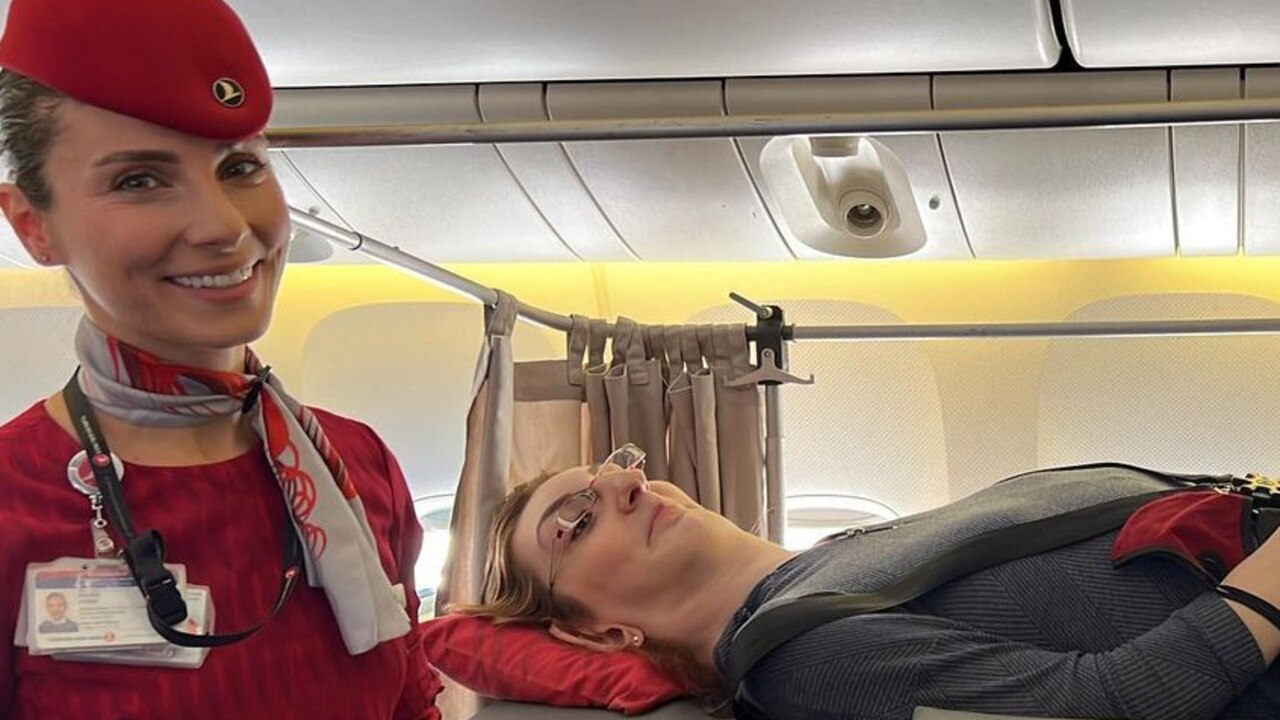 The world's tallest woman flew for the first time after an airline modified its seats to accommodate her.
Rumeysa Gelgi from Turkey is in the Guinness Book of World Records for her height of 215cm.
But the 25-year-old Harvard-certified web developer had never flown, her size as well as her mobility and health issues making it difficult to fit comfortably on a plane.
That was until Turkish Airlines made some modifications to one of its planes, replacing six seats with a special stretcher, so Rumeysa could fly from Istanbul to San Francisco for the first time in September.
Want to stream your news? Flash lets you stream over 25 news channels in one place. New to Flash? Try 1 month free. Offer available for a limited time only >
"A seamless journey from start to finish with @turkishairlines," Rumeysa said in a recent Instagram post alongside several shots inside the cabin.
"I have so many people to thank. @airclinic managers and officers, @igairport staff, @turkishairlines team, all cabin crew including our cabin supervisor, officers and medical team @flysfo , customs police and many other departments that I cannot count.
"But unfortunately I didn't have the chance to know the names of many people who helped me with their kindness and dedication for 13 hours in the air for 19 hours in total and organized a celebration of the "first flight " over the clouds."
Rumeysa said it was her first airplane flight, "but it certainly won't be her last."
"From now on, it will be a great honor and pleasure to fly to different parts of the world with @turkishairlines. Heartfelt thanks to everyone who has been part of my journey."
Rumeysa shared a series of snaps from the historic flight that show her lying on a stretcher where several seats have been removed to accommodate her longer stature.
A photo also showed her with cabin crew and a chef who presented her with a celebratory cake to mark the occasion.
Turkish Airlines said Traveler that Rumeysa's condition required unique measures.
"A stretcher was fitted to the aircraft for our passenger, who was unable to travel in a seated position for a long time due to scoliosis, and with the special support of our ground handling team, our passenger was taken on the plane and made her journey on a stretcher," Turkish Airlines told the publication.
Rumeysa's medical condition led her to use a wheelchair and a walker due to mobility issues.
"In addition, a surprise cake was served to our passenger and her family by our cabin crew and special support was provided during their travels," added a spokesperson for the airline.
Rumeysa, who is also a disability advocate, was in San Francisco to work with Guinness World Records.
In addition to holding the title of the tallest living woman in the world, she also holds the title of having the longest fingers of a living woman, the largest hands of a living woman, and the longest back. of a living woman.
In an Instagram post last week, Rumeysa shared her excitement about being featured in and on the cover of next year's Guinness World Records book.
"It's the best-selling book series of all time, and I'm in it and in it!" she captioned the post.
"I finally hold my very own #GWR2023 in my hands! @guinnessworldrecords have kindly dedicated TWO full pages to my story and record titles, and also given me a place in the cover artwork. What a dream!"