Strong Meath representation in Ireland's international amputees squad ahead of World Cup
The Irish International Amputee Team will travel to Turkey this week to compete in the World Amputee Football Federation World Cup.
The Boys in Green have been drawn in Group D and will face Brazil, Iran and Morocco from Saturday October 1 to Monday October 3 in Istanbul.
After finishing 13th at the last WAFF World Cup in San Juan de Los Lagos, Mexico in 2018, Christy McElligott's side will be looking to build on that performance and advance to the knockout stages of the competition.
The team is made up of 14 players and 7 staff.
There is strong representation of Meath in the squad, including manager McElligott (Dunboyne), captain James Conroy (Skryne) and player Jack Douglas (Summerhill) who appeared on Ireland AM last Friday morning.
Here is the full clip!
"This will be James's third World Cup and he is an integral part of the team and wears the armband like a true leader," said team-mate Garry Hoey.
"Jack Douglas is new to the senior team after leaving the IAFA junior academy. He impressed in the Irish league playing with the Bohemian Amputee team and earned his place in the team thanks to his pace and her willingness to learn the game. |
The Irish team will face Morocco in the first game on Saturday October 1 at 1:30 GMT and on October 2 against Iran at 11:30 GMT. On October 3, they will face Brazil at 15:00 GMT.
Amputee Football is a 50-minute 7v7 game consisting of two 25-minute halves.
Outfield players are missing a leg, they are not allowed to use their prosthetic leg, they must use standing crutches to chase after and kick the ball, the use of crutches is not allowed. Goalkeepers have lost their hand or part of their arm and are only allowed to use their good hand.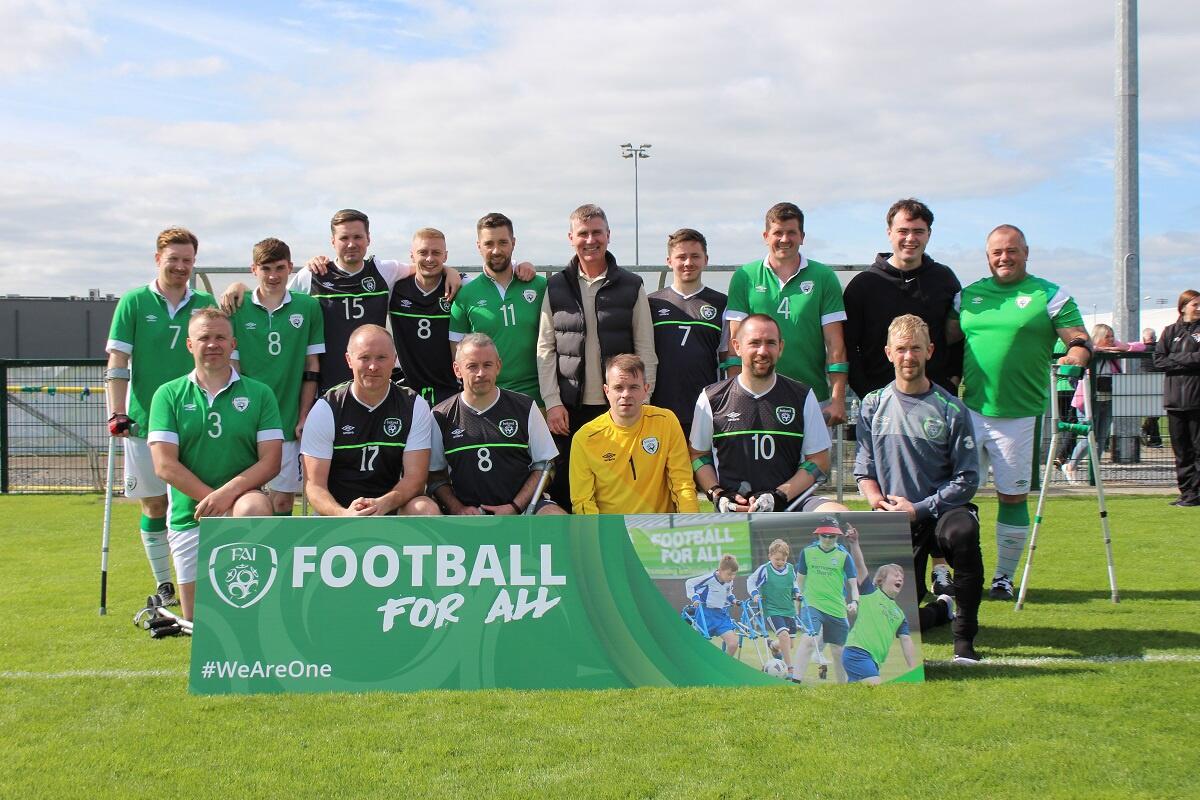 All matches will be streamed live on Youtube and you can check out the Irish Amputee Football Association on Facebook and Irishampfootball_ on Instagram where details will be posted.
The World Cup will see the participation of 24 teams from five continents.
"Angola are the current starters, Turkey would be one of the favourites, then there are teams like France, Spain, Mexico, Japan, Argentina, USA, Tanzania, England and Italy to name a few that will be very strong." said Hoey, a Bohs and Ireland player.
Each team will finish with a position in the standings and Ireland will be hoping to improve from their last World Cup where they finished 13th.
The Irish Amputee Team flies to Istanbul in Turkey this Thursday 28th September.
The team is still looking for sponsors for the team going to the World Cup! If you would like to sponsor or know of a company that would like to get involved, please contact us by email. [email protected] or contact (+353 87 649 6711).