Rising costs hurt Turkey's tobacco industry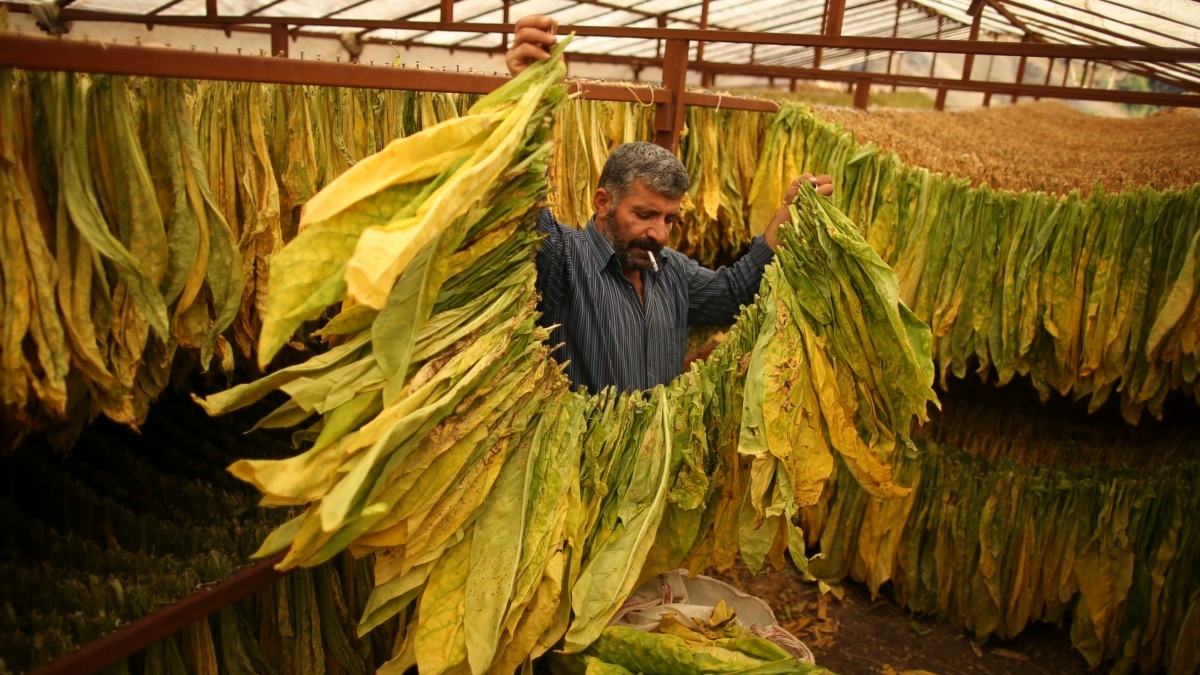 Tobacco is one of Turkey's main agricultural products. But some tobacco growers in the country say rising operating costs linked to inflation are dramatically reducing their profits.
In the tobacco-growing region of Celikhan in the southeast of the country, farmworker Mehmet Emin Calkan said people are struggling and "don't have much to live on".
Calkan is 19 and hopes to go to college to study electronic engineering. But for now, he is working in the fields. He told The Associated Press that he sometimes works until 9 p.m. Calkan said he had to work long days to help his family pay for the books he needed to prepare for the college entrance exam.
The man who runs the tobacco farm is Ismail Demir. He said he is not making as much money this year because fertilizer is very expensive. Fertilizer is a chemical that helps plants grow.
Other costs are also high, such as the diesel fuel he puts in his vehicle to get to the fields. Last year he spent about $3 to drive to work. Now it costs around $16 to travel the same distance.
The difficulties faced by the farm owner and his worker occur in other industries across Turkey. The country is facing economic problems due in part to inflation and weak currency valuations.
The Turkish government announced on Monday that inflation had increased by almost 84% compared to the previous year. This is the largest increase in the country in 24 years. It is also the highest among the 20 largest economies in the world. Independent experts claim that the country's real inflation rate is much higher. The Inflation Research Group has estimated the rate to be around 186%.
The largest increases are in transportation, food and non-alcoholic beverage costs.
Some countries are experiencing price increases due to economic downturns related to the COVID-19 pandemic and Russia's invasion of Ukraine.
But economists who study Turkey say the country's economic problems are mostly linked to fiscal policy mistakes made by the government.
For example, Turkish President Recep Tayyip Erdogan has said he believes higher costs to borrow money lead to higher prices. Most economists, however, believe the opposite to be true. But under pressure from the president, the Turkish central bank lowered the cost of borrowing.
When the bank recently lowered the cost of borrowing by one percent, to 12 percent, it weakened the Turkish currency, the lira. The currency has lost more than 50% of its value since 2021.
Erdogan is a candidate for the June 2023 elections. He said his government is focusing on measures to increase exports and boost economic growth. Such policies have already saved 10 million jobs, says the president.
In a recent speech, Erdogan said that the interest rate "must come down further". He suggested that this would also lead to lower inflation.
The Turkish government has put in place a number of policies to help people deal with inflation. He increased the minimum wagerestrict lease raises and lowers taxes on energy bills. But even with policies, people struggle to meet basic living costs, also known as expenses.
Another tobacco farmer in Celikhan is Ibrahim Suna. He said he is currently struggling to support his family. "Tobacco is our only means of subsistence and we have no other income," Suna said. He has five children.
Suna said he expects to earn about $5,400 this year from harvesting 400 kilograms of tobacco. But, he noted, "half of it will go to expenses."
I am Dan Friedell.
Dan Friedell adapted this story for VOA Learning English based on an Associated Press report.
_________________________________________________________________________
words in this story
currency -not. money used by a country
minimum wage -not. the lowest amount of money per hour allowed to be paid to workers under the law
lease -not. the money you pay in exchange for the possibility of using a property and especially of living in an apartment that belongs to someone else
_________________________________________________________________________
We want to hear from you. Do you think tobacco workers will do better soon?
We have a new comment system. Here's how it works:
Write your comment in the box.
Below the box, you can see four images for social media accounts. They are for Disqus, Facebook, Twitter and Google.
Click on an image and a box appears. Enter your social media account ID. Or you can create one on the Disqus system. It's the blue circle with "D" on it. It's free.
Every time you come back to comment on the Learning English site, you can use your account and see your comments and replies. Our feedback policy is here.