Rex Chapman's Grub Street Diet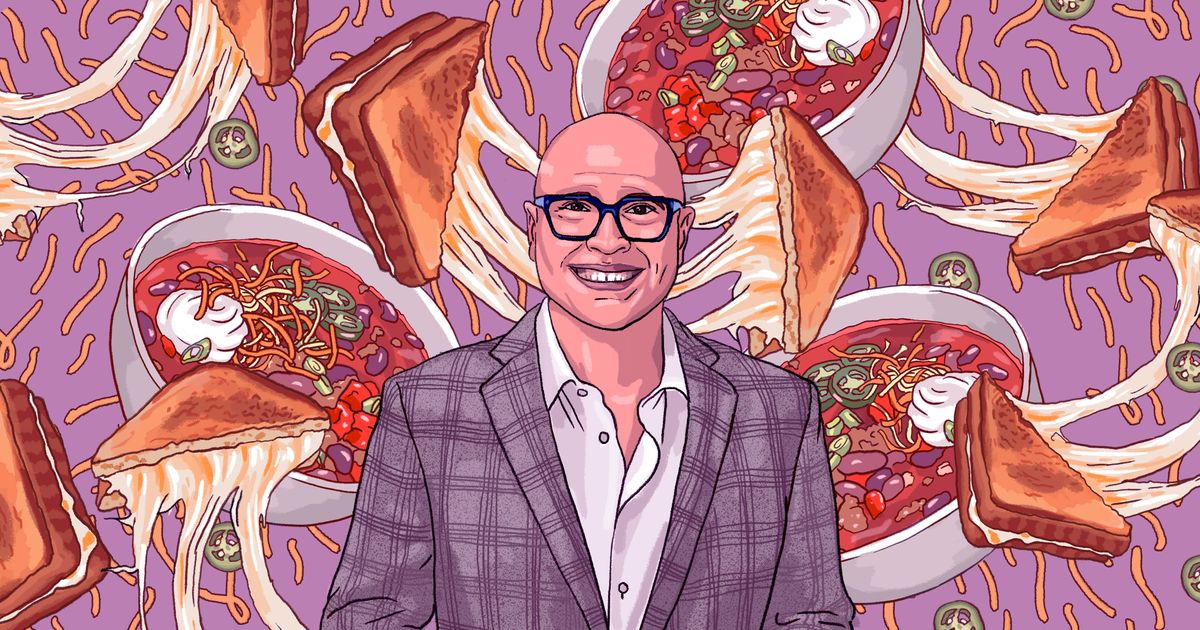 Rex Chapman.
Illustration: Margalit Cutler
On Monday, Rex Chapman kicked off his eponymous show with CN+ in which he interviews the likes of Jason Sudeikis, Amber Ruffin and Kevin Love. A high school basketball phenom, Chapman played 12 seasons in the NBA — and now works as a basketball broadcaster — but he's better known among some as a (reluctant) Twitter personality. His digital persona leans toward elevation, but he's also been open about his struggles with addiction. Now a full-time New Yorker, Chapman even experienced a life milestone last week: He ate borscht for the first time.
Monday, March 28 th
We were filming an episode of my show at the Veselka restaurant. I went there, talked to the owner and a couple of young refugees – teenagers – so it was quite difficult, actually.
It was the middle of the day and I wasn't hungry, but they brought borscht and pierogi and it was amazing. It was surprising. I had never eaten borscht before. I don't think I've ever really eaten Ukrainian food, so it was great for me, to have this for the first time. There are many other things I want to try. I'm sure I've never had real Greek or Indian food before, so those are both on my list.
Growing up in Kentucky, it wasn't like there was a lot of variety, and we weren't flying anywhere. We drove everywhere we vacationed, and it was normally three or four or five hours from Kentucky.
Even now, you don't have many choices. If you're trying to find a turkey burger in Lexington, good luck. It's good to have authentic food here because there's so much variety, so many people and cultures.
Growing up, almost everything was fried. Not the best, I admit. As Kentuckians, we don't have the best eating habits like many places in the South or Midwest.
My hometown is kind of famous for barbecue. In fact, I think we kind of call ourselves the barbecue capital of the world in Owensboro. But there are two things about Owensboro. One is mutton. The other is burgoo. BOURGOO. Burgoo. And I don't think anyone knows what's in there. I'm sure that it's not the case.
I moved to New York a few months ago. From the first time I came here as a teenager for the NBA Draft, I just loved the hustle and bustle. I love being able to look out the window and see cars and at night see all the lights and people walking by. A few of the places I lived in Kentucky growing up, a car may not pass your house for an hour. I just like the… It's lively and it's fun.
One thing I wanted to do in New York was get up here and hang out and try things and go to little hole-in-the-wall restaurants and see plays and do all the touristy things that I have never done.
Later that day, I went to Peak, that Hudson Yards restaurant and bar with a great view, for the CNN+ launch party. It was on the 100th floor or something so the view was just crazy and everything was decorated. I got to see my old friends Jemele Hill and Cari Champion, who also have a show – I just can't believe they chose me to work alongside those folks.
At the party, I drank half a beer, which I always drink with ice, and there were past appetizers, but I only ate at home. It helps me drink it slower. Based on my past and what I've been through, I know I have to pace myself. Plus, it helps me stay hydrated at the same time. It's just smart. My preference is Coors Light on ice. My friends call it the Rex Chapman.
Back home, I ate a few omelettes. I like them cooked harder, like in a restaurant. I've had it the other way around, where the eggs are even softer, you know, well, I don't like it the other way around. Doesn't look cooked to me.
I also ate carrot cake. I like mine with cream cheese frosting, of course. I don't think I've had carrot cake without this frosting. But would I refuse this carrot cake without frosting? No, I do not think so.
Now you might be wondering, was that carrot cake homemade? Surely not. I do not cook. It's from a restaurant somewhere around here. I do not know where.
Tuesday 29 March
I drank a diet coke.
I had a salad with tomatoes, cucumber, peppers, blue cheese, croutons and Thousand Island dressing. Where would I rank this among salad dressings? Fifth, fourth? I do not know. I really do not know. I'll have to get back to you all on that.
One thing I know is that I just love food. I love Mexican food, I love Italian food, I don't care if it's American Italian or Italian Italian. Here is a story. After coming out of rehab four years ago, I needed to lose weight. For a year straight, every meal I ate was turkey chili. Every meal. Once a day only. I ate it in the evening, in the evening, every evening. I'm just weird like that. I didn't have to think about it; I liked it; it was spicy. But for a whole year, I did that. It's not really discipline. It's a matter of dependency. Routine is kind of the key, so it works that way.
Speaking of turkey, I had turkey pasta made with veggie rotini. I try not to eat a lot of meat. I try not to eat a lot of beef, pork, chicken. I try to eat fish. Turkey is just kind of my go-to protein, I guess. I also like pasta, but I know I don't like it very much. It rests on my stomach, so I try to eat as many vegetables and stuff as I can.
In the evening, I nibbled on dark chocolate M&M's.
Wednesday March 29
I ate the same foods, more turkey pasta. I go through periods where I like something and crave it all the time, as you might have guessed from my year of turkey chili.
My main thing is that although I really love food, I hate thinking about what I'm going to eat. I hate that. He used me. It's not that I'd rather do anything else — not particularly. My brain doesn't work that way. It's not just food, in other words. Like our show, for example, it stresses me out what to wear, so lately we've figured out that they're just going to pick it out for me because I don't like doing it. Same way with food. It's really just a matter of convenience.
Thursday, March 31st
Peppers stuffed with rice, ground turkey and vegetables. I'll be honest with you, I've never eaten stuffed peppers before. Will I have them again? Sure why not?
I also had a Caprese salad, you know, with tomato, basil and mozzarella.
Usually I get delivery all the time so it was a weird week for me. It's been a while since I've even been to New York for an entire week, with travel for the show and the NCAA tournament, so I usually don't have time to cook meals. It was nice to have healthier food prepared at home and have the leftovers ready for the next day. I'm a creature of habit so all these trips take me out of my routine. As much as I enjoyed having the salads and the stuffed peppers, I probably won't be able to get back into the routine of preparing food at home for a while. Maybe next time I will have more than a week in one place.
Anyway, I ate M&M's. I like dark chocolate. I use it kind of like a cheat. I love ice cream, but I can't eat this stuff anymore, it's killing my stomach. When I was younger I loved milk chocolate, but as I got older my taste changed for some reason.
One thing is certain: I drink Diet Coke all the time. I am definitely addicted to Diet Coke. Yeah, forever. My parents drank straight Coke when I was little, we drank Coke, and I guess I quit drinking sodas while I was gaming for a while, and the last two years, I guess I probably drank six to 12 a day.
It's like you're reducing your addiction, or at least reducing it instead of taking what's killing you fast. You just drink Diet Coke instead. It will kill you more slowly.