First flight of the tallest woman in the world! Turkish Airlines did this by cutting six seats to make room for its trip to San Francisco.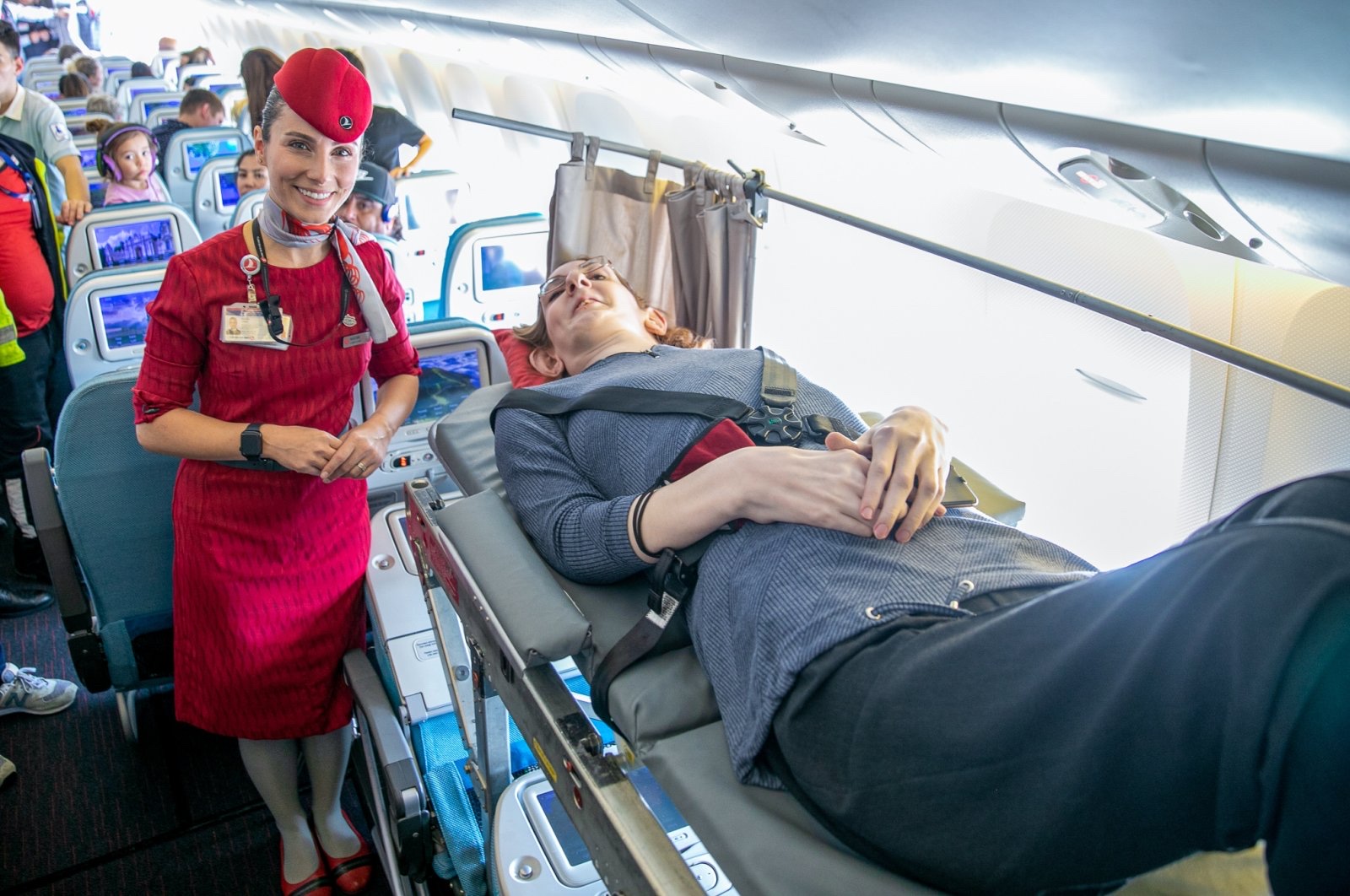 It was a moment for her and for Turkish Airlines too, the world's tallest woman made her first flight with the help of the Turkish flag carrier in September.
Rumeysa Gelgi, Guinness Book of Records holder for her height of 2.15 meters (about 7 ft), boarded the San Francisco (FSO) – Boeing 777-300ER linked airplane with his wheelchair before lying down on the stretcher for the 1 p.m. flight.
---
Guinness World Records
---
To make the trip possible, Turkish Airlines came forward and converted 6 seats on the plane into a stretcher for Gelgi to lie on throughout the flight.
With the required seat adjustment, Rumeysa Gelgi finally boarded a plane at Istanbul International Airport (IST) for the first time in her life accompanied by her mother. Although it's not an easy task for coordination, the tallest woman in the world has finally taken her very first plane trip.
---
Rumeysa Gelgi with her mother at Istanbul Airport, Turkey. Photo: AA.
---
The 24-year-old traveled to San Francisco for her professional interests in software development, but she will also coordinate with Guinness World Records to promote various events.
Gelgi has to travel on a stretcher due to Weaver syndrome, a rare genetic condition characterized by rapid bone growth. Although there is no cure, people with this condition can lead healthy lives. She normally uses a wheelchair but sometimes walks short distances.
She mentioned at Istanbul airport that she was very excited to travel by plane for the first time and that this flight was important for patients like her who needed a stretcher.
"This will be my first flight as well as my first trip overseas. But I believe this experience will be a first for many people, not just me. Because as you know, the ability to travel as a passenger on a stretcher is usually reserved for patients who are transferred from one intensive care unit to another."
"It is an alternative for patients who are referred from one hospital to another and need an ambulance. However, as I could not sit still for long periods of time due to my scoliosis or a spinal curvature disorder, I had to fly on a stretcher".
---
Rumeysa Gelgi, Photo: AA.
---
Gelgi lives in Karabük, Turkey, about 200 kilometers (124 miles) north of Ankara. She wants to use her world record title to advocate and raise awareness for both Weaver syndrome and scoliosis.
If one checks the records, the tallest woman on record was Zeng Jinlian from China's Hunan province, who was 246.3 cm (8 feet, 1 inch) tall at the time of her death in February 1982.
Coincidentally, the tallest man in the world – Sultan Kosen, who was measured at 2.51 meters (8 feet 2.8 inches) tall, also lives in Türkiye.
---