Air Serbia and Turkish Airlines strengthen their cooperation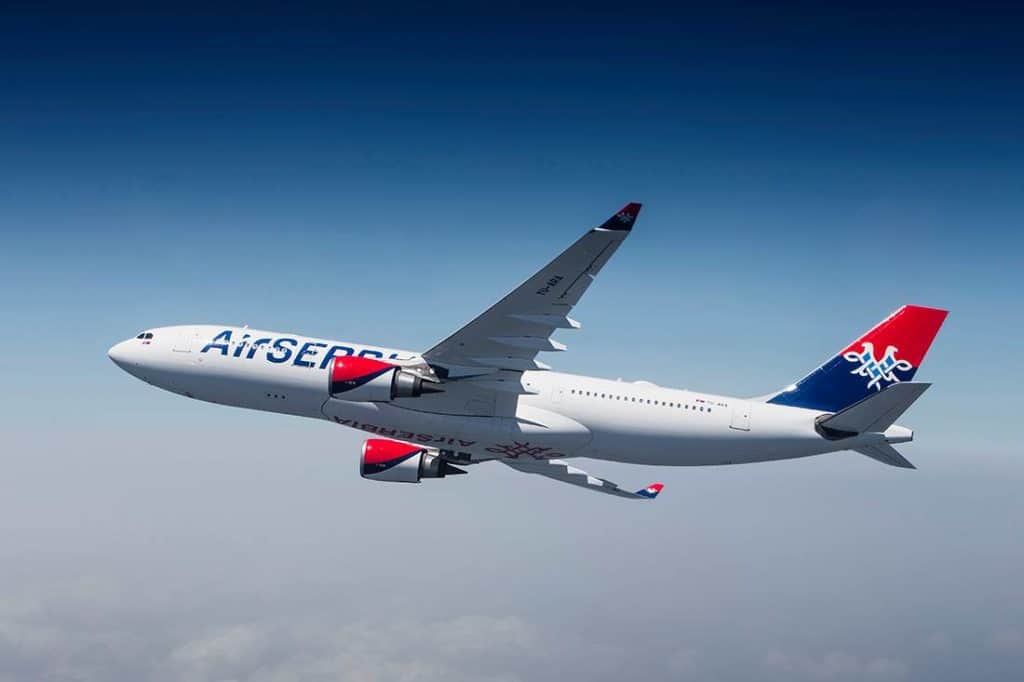 Air Serbia, the national airline of the Republic of Serbia, and Turkish Airlines, the national airline of Türkiye, announced a further strengthening of their commercial cooperation with a new Memorandum of Understanding, officially signed in Doha during the 78th Assembly Annual General Meeting of IATA in the presence of the CEOs of the two companies – Bilal Ekşi and Jiří Marek.
Turkish Airlines and Air Serbia will further explore avenues for deeper business cooperation, possibly leading to a joint venture, which will allow both companies to offer more competitive and affordable flights between Turkey and Serbia, improve the quality of the services currently offered, as well as how to expand the offer and the advantages for all passengers.
As part of this expansion of cooperation, from July Air Serbia will introduce additional flights on the Belgrade-Istanbul route, increasing to 10 flights per week between Belgrade and Istanbul, while Turkish Airlines will assign wide-bodied aircraft twice. to this link. one week. Under the agreed Memorandum of Understanding, the two parties will negotiate to strengthen existing cooperation in terms of codeshare, freight and frequent flyer program (FFP) while developing cooperation alternatives on the passenger lounges of their networks. .
"We are delighted to further strengthen our good relationship and cooperation with Turkish Airlines. We are very pleased to announce that Air Serbia and Turkish Airlines will continue to seek new business opportunities to create effective and mutually beneficial relationships, while considering the possibility of joining forces to achieve better connectivity and offer our customers through a possible joint venture on services between Serbia and Turkey. In this way, we contribute to the improvement of relations between our two states, for the benefit of users and communities of both countries," said Jiří Marek, CEO of Air Serbia.
Commenting on this MoU, Bilal Ekşi, CEO of Turkish Airlines said; "When we consider the global network today, we see how important the development of partnerships is in the global aviation industry. Increasing bilateral relations between our countries and improving cooperation through our networks are essential for us, especially after the pandemic. In this regard, we are delighted to sign this MoU with Air Serbia to explore enhanced cooperation opportunities and negotiate further to expand our existing partnership now. We would like to thank Mr. Jiří Marek and his team at this opportunity for their continued support of our joint work which will further contribute to improving the relationship between our airlines, our countries and our communities.
During their cooperation so far, the two companies have several times adopted and improved codeshare agreements for flights to destinations within the Air Serbia and Turkish Airlines networks. The joint flights offer fast and convenient connections for passengers traveling from Istanbul, Türkiye's largest city and a major air traffic hub in the region, to Belgrade and beyond, as well as for passengers traveling from the Serbian capital to Istanbul and beyond. In addition to this, Air Serbia has added its code JU to the flights of AnadoluJet, a subsidiary of Turkish Airlines, between the Turkish capital Ankara and Belgrade, the capital of Serbia. At the same time, Turkish Airlines has added its TK code to Air Serbia flights between Niš and Istanbul, as well as between Kraljevo and Istanbul, thus providing passengers with access to Turkish Airlines' global network on the aforementioned flights.